Join Waukesha resident Brien Lee and his blog, Sir Fido, as they explore the city and report on the interesting things they find.

Email Brien at howlinblog@yahoo.com.
A couple days after Les died two and a half years ago I posted a photo of what I felt his monument should look like. It wasn't a suggestion he be laid to rest in Meier Festival Park where the photo was taken though.
Les was laid to rest here in Waukesha at Prairie Home Cemetery, and a very large and beautiful carved stone monument complete with benches to rest and reflect on marks the spot. Have you seen it? Of course it has a carved stone Les Paul model Gibson, but not the 15-foot model I envisioned.
If you haven't been to see Les' monument would you go if you knew there'd be a 15-foot guitar there? How about a 10-footer?
Shortly after the 10-foot fiberglass guitar sculptures were delivered this week the Waukesha GuitarTown Steering Committee announced their proposed locations. Once approved by the various committees, councils and commissions we should see them placed within the downtown area by June 1st... all but one located no more than two blocks off Main Street. The odd one, near Club 400 on Williams Street, recognizes Les' early days of playing in the bar.
I don't seriously think a GuitarTown sculpture should be placed in Prairie Home, (though the artwork, a memorial to all Les' accomplishments, would practically suggest itself) but why not one close to where his boyhood home once stood? As I understand it, we gained another Walgreens when we lost that little piece of Waukesha's history. His home stood where the Madison Street Walgreens now resides.
If 95% of the guitar sculptures are placed on and near Main I suspect most of the thousands of drivers blowing through town on Hwy. 18 at North Street or St. Paul would never even know they existed. I don't recommend putting a guitar by Walgreens though. I suggest locating the Bank Street one closer to St. Paul where it would get a lot more visibility from out-of-towners and still be close to the State Bank, Cafe de Arts, Brook St. Artisan Village and the former site of Les' boyhood home. It would also be cool if the artwork would depict scenes from Les' youth. A plaque explaining why it's located where it is wouldn't hurt either.
If the idea is to have a "walking tour" of Waukesha's public art scene why group three together within a block of one another on West Main? Why not stretch it out a little? Maybe down to the Springs Artisan Village on Wisconsin Ave. close to St. Paul where it would do more to lure people to downtown?
Or, for a real walking workout... Les also used to perform at a rootbeer stand at Goerkes Corners back in the day. Of course, it was there the idea for guitar amplification was first planted when customers complained they couldn't hear Les' playing.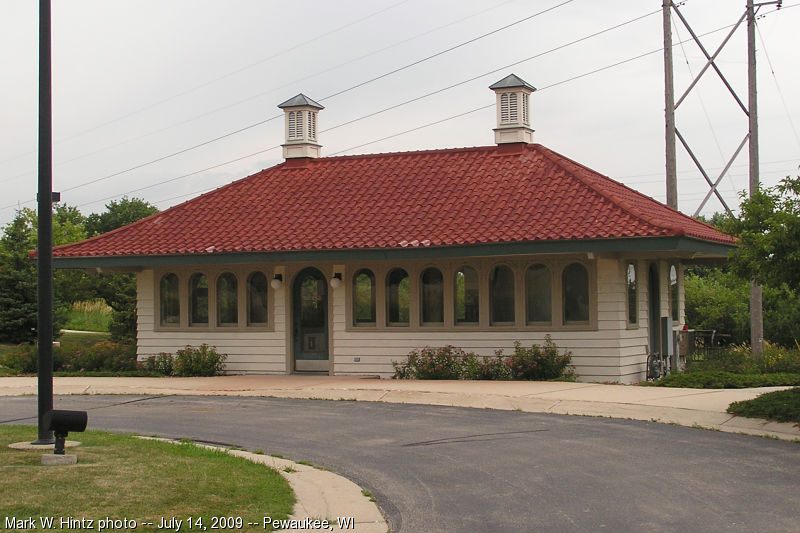 I'd bet the volume of traffic passing one of the sculptures on Bluemound would rival the volume produced by a 10-foot Les Paul!
This site uses Facebook comments to make it easier for you to contribute. If you see a comment you would like to flag for spam or abuse, click the "x" in the upper right of it. By posting, you agree to our Terms of Use.